Class Info
Over the years I've attempted to improve the process of learning and understanding in the "How to Draw Great Figures" venue. What I've found is that it is important to precisely define the different stages in the drawing process. It's not about style and it's not about technique. It's about skills, developing skills. Learning how to see, interpreting and conceptualizing. That way one can clearly observe where ones strengths and weaknesses are in the process. The student can therefore concentrate on what he or she needs to bring attention to and not just simply repeat the same successes again and again without improvement. Working with live models that are both diverse and active and encouraging class discussions driven by student questions, the practitioners discover they are learning to troubleshoot their own difficulties. Hence, the approach I offer becomes a self-training method.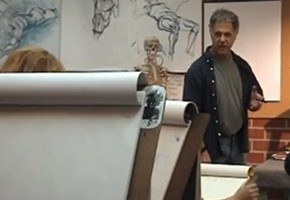 I have worked with and trained top-of-the-line professionals at Disney Feature Animation, DreamWorks, Sony ImageWorks and other studios inviting to my classes technical artists, effects artists, riggers, animators, story artists, etc., as well as illustrators, fine artists and amateurs just starting out in their careers. I have been doing this for 45 years and, for me, the important 'Key' is to come to understand that it's about communication and storytelling, not copying!
My artistic lineage and personal training starts with mentor Harry Carmean, his wonderful sense of composition, his straight forward, no non-sense figure drawings, and with Lorser Feitelson, also a great draftsman, art historian, post surrealist and co-founder of Hard Edge Painting in California. This lineage which includes Glenn Vilppu, has traveled from mentor to student all the way from the Florentine School in the Renaissance, and in particular from Michelangelo, whose ideas about sculptural drawing would radically change drawing forever.